Well, we all know my love of antiques, vintage jewelry, accessories and gorgeous china -- I have found the PERFECT combination of it all! I was recently at a birthday party when I complimented a woman on her belt. It was a gorgeous brown crocodile belt complete with a striking buckle. The buckle itself was a show-stopper - a beautiful mosaic of orange and cream with a cameo in the center. It was showcased perfectly with a rust colored cashmere sweater. She then went on to tell me that it was one-of-a-kind and made from an early 1900's cameo and a mosaic of broken estate china! I gasped in awe....how would I ever get such a piece?
Belt Buckle with Early 1900's cameo and Estate China
Ta-da! I introduce you to Cathy Schiff of Vintage by Cathy. A fresh face on the fashion scene, her company just won the Daily Candy People's Choice Award for Start Small, Go Big. She is the founder and creator of this genius concept. She takes early 1900's postcards, vintage matchbooks, antique cameos, heirloom china and creates mosaics on cuffs, necklaces and belt buckles. Her passion is taking the history and story behind her treasures and creating a piece of wearable artwork. Cathy loves creating custom pieces made from her customer's own memories and mementos as well. If you have inherited your grandfathers watch that is no longer working, she can take the gears and create a necklace. Or she can take that broken plate passed down to you from your great-grandmother and make a beautiful mosaic belt buckle. The possibilities are endless but the result is always unique and stunning. Even better...every piece is different. She makes everything by hand and no two pieces will ever be the same. Just imagine when you are stopped at a restaurant and asked about your gorgeous belt...you too will be able to say, "It's a custom piece made from antiques!" What girl doesn't love that!
Let your imagination run wild and contact her for more information!
Be sure to check out her website www.vintagejeansatlanta.com, as well as her etsy page and facebook page!
Here are a few of her masterpieces for your inspiration:
Belt Buckle with late 1800's Intaglio and Artist's sketches
Belt Buckle with Antique Carved Ivory and Vintage Postcard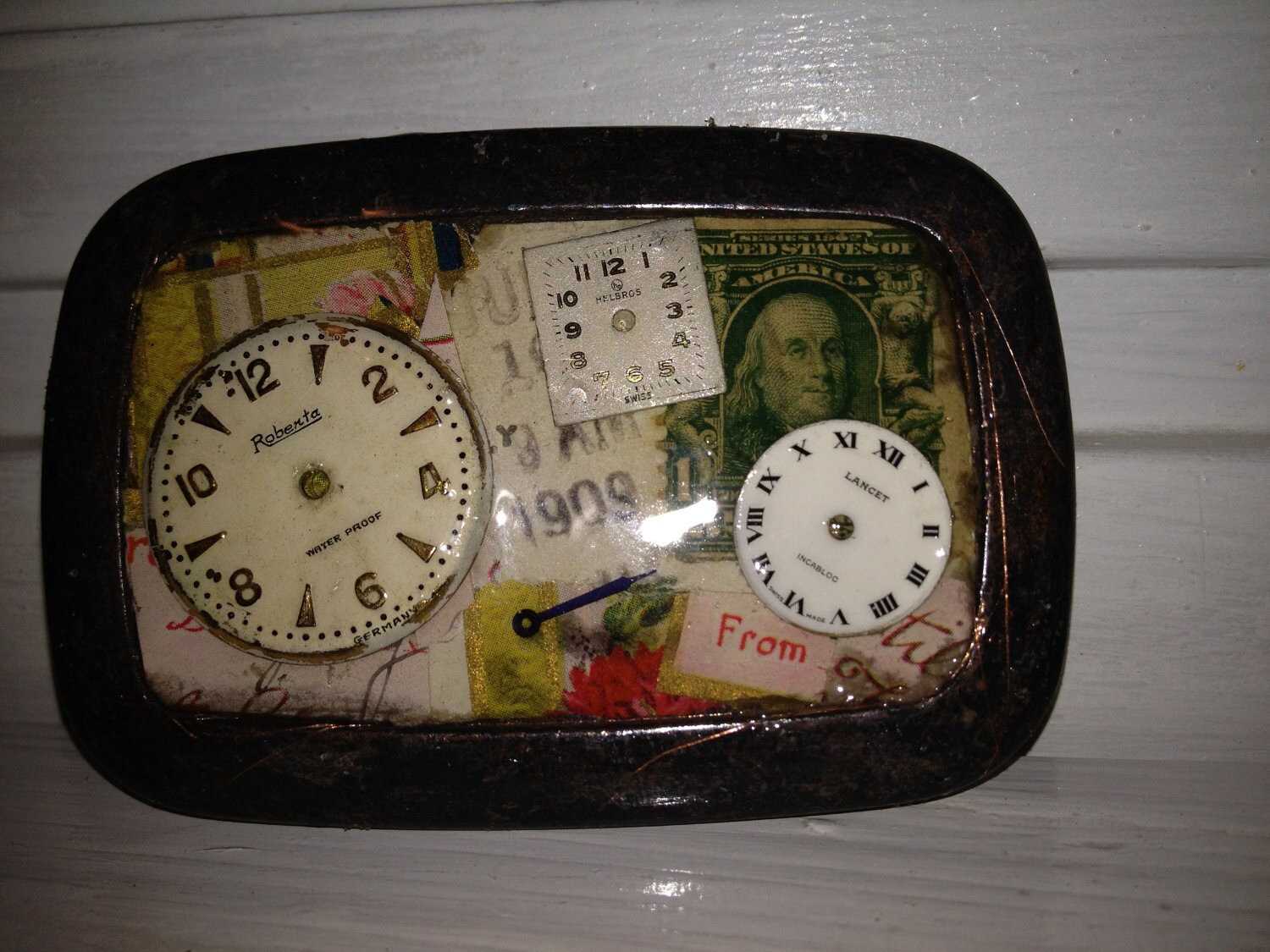 Belt Buckle with 1909 Postcard and Vintage Watch Parts
I cannot wait to see what she comes up with next!
ciao,
Miss Beanie